Oftentimes there are varying details that make a community appealing to a home buyer. Whether it's the phase of life you're in, or whether you've owned a home previously, different people want and need different things from a home and a community.
But there are certain factors that make a community appealing to any home buyer, and we're sharing some of the factors we hear most from our potential home buyers.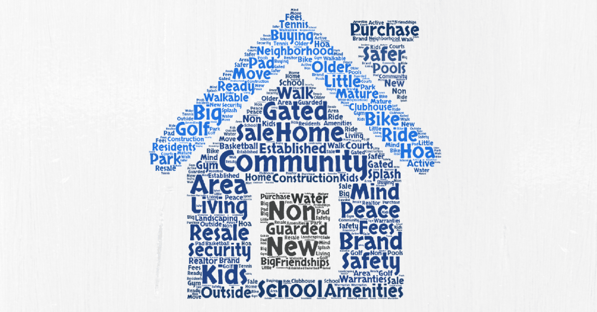 Gated communities vs. non-gated communities
Safety, security and peace of mind probably come to mind when thinking about buying a home in a gated community. Whether the gated community is guarded by an actual person, or just a security code and cameras, people often purchase homes in these neighborhoods in order to feel safer. A con that can come with living in a gated community (over one that's not), though, is the price tag that is often attached to the homes for sale in the neighborhood (or other fees, such as HOA fees). While the safety of you and your loved ones might be invaluable, you may find that non-gated communities can offer the same safety as a gated community, especially once you've done your research on the neighborhood and its surrounding area.
Community school vs. schools outside of the community
If you have kids, living in a community that boasts a community school may sound like a plus. The fact that your kids could easily walk or ride a bike to school, be close to home in case of an emergency or create friendships in school that flow over into home time may attract you to this type of community. If you don't have kids, though, living in a community where school-aged children are most likely to be may not be of interest to you. In this instance, a neighborhood that doesn't have a school within its community may be more to your liking.
An established community vs. a brand new community
Deciding whether to purchase a home that is new construction or one that is resale can be tough. Oftentimes a home that is new construction offers benefits such as being brand new (obviously!), which can also mean home warranties and the like. However, a resale may be nestled in an established community, one that offers mature landscaping or a name known for being a "must live in" neighborhood in your area. Sometimes a well-loved older home has more to offer you than a brand new, move-in ready home. It just depends on the features you're looking for!
Some communities offer miles and miles of walking space. From nice sidewalks that lead from your home to communal spaces that may be found in the neighborhood, to being located near areas like a bustling downtown that can offer you places to dine or shop. Other communities, however, are sometimes smaller or may have homes situated closer together, offering few spaces to take a long morning or evening walk. Or some neighborhoods are located too far from modern conveniences, meaning a car ride is required when trying to get where you need to go.
Big amenities vs. little amenities
Nearly every community has something different to offer as far as amenities are concerned. Maybe you're looking for a golf community, with the best tee times for residents, and a clubhouse full of events and good food and drinks to enjoy. Or maybe you're more interested in a community with multiple community pools, or even a water park or splash pad area for your youngsters to enjoy during hot Florida days. How about a community with tennis or basketball courts, or a gym where you can stay active during your downtime? Making a list of the amenities that are most important to you, and then sharing them with your REALTOR®️, is a great way to really hone in on the right neighborhood to call home.
Everything we listed above are factors that make a community appealing for any home buyer. Once you've made your list of your top must-haves, let us know; we'd love to help you find the perfect place to call home this year!