Living in Florida, especially this time of year, has many perks. Living in one of the walkable communities within a half hour of Orlando is even better, though! "Why," you ask? Not only are there a ton of benefits to living in a walkable community, living in a walkable community in Orlando is like living somewhere completely different than you really do. While you can still have the big city benefits of Orlando, your community will most likely offer more of that small town charm that many homeowners are after.
Thornton Park
Thornton Park is located just a few blocks east of Downtown Orlando, and features cobblestone streets that make you fall in love the minute you lay your eyes on them. It features a relaxed, urban feel, making it just another walkable community that millennials would love to live in, too. The residential neighborhood is home to street after street of oak-shaded bungalow, and the commercial district has something for everyone.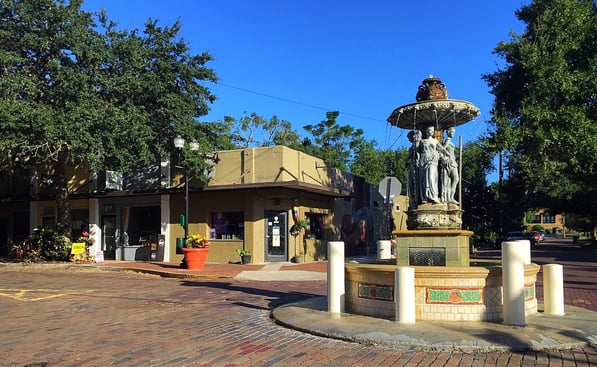 Thornton Park oozes culture, with fantastic architecture and numerous art galleries, featuring local and international works of art. There is always something to look at, and with the array of local eateries, there always something to dine on, too. Lake Eola is not far from this community, making it an easy walk for residents and the perfect location for an afternoon stroll or a morning jog. You can meet up with your friends for yoga or take your kids to the large, shaded playground.
Another benefit of a walkable community is a strong economy, and with all the boutiques, art galleries and eateries located in Thornton Park, the economy of this community is robust.
---
Celebration
Celebration is a master-planned community in the outskirts of Osceola County located a hop, skip and a jump from Walt Disney World. It was originally developed by The Walt Disney World Company and still hosts many Disney-operated businesses. Celebration was designed to mirror Walt Disney's vision of the Experimental Prototype Community of Tomorrow (more commonly known as Epcot).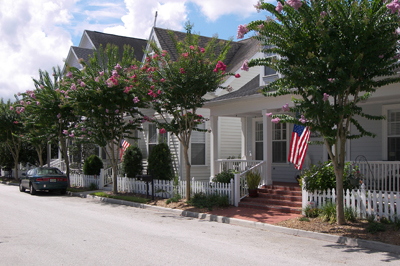 Today, Celebration has become known to many as an example of new urbanism thanks to its safe, walkable community life. The downtown area is home to shops, restaurants and other commercial establishments. The Celebration Hotel and Celebration Golf Club are two other key staples of this community. Residents of Celebration live in one of the many "villages", or neighborhoods, each with its own unique flair ranging from Georgetown-style condos to Victorian-style estates and more.
When you live here, you can enjoy the use of five large parks with indoor and outdoor spaces available such as the community pool, tennis and volleyball courts, recreational fields and various pavilions. When it comes to everyday needs, there is a local post office, bank, fire department and hospital. Celebration's motto is "Live. Work. Play." and residents here are able to do just that.
A key benefit of a walkable community is accessibility, and Celebration is the epitome of that.
---
Baldwin Park
Baldwin Park is nestled between the city and the 'burbs, and while it's a fairly newer community, it boasts a rich history. It was built on the site of the former Orlando Naval Training Center, turning the obsolete military property into a sustainable community. It boasts a very traditional feel, with an urban twist in a suburban community.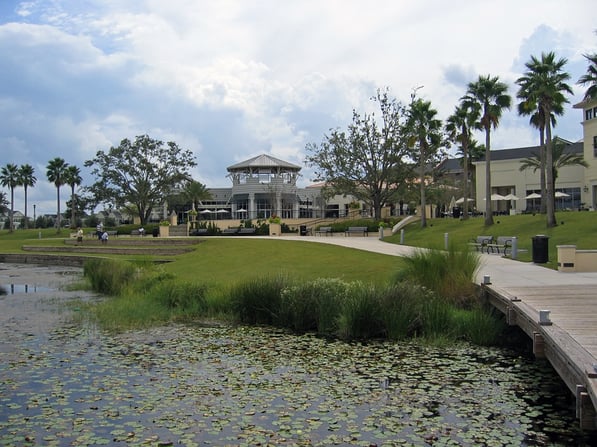 Photo Credit: Brett VA on Flickr
While it is located near many of the businesses and entertainment that Downtown Orlando has to offer, you don't have to leave the neighborhood to work, shop, eat or play if you don't want to. Baldwin Park was voted "Central Florida's best residential neighborhood to live in" by Orlando Business Journal readers in 2013, and features more than 50 miles of walking paths, 200 acres of parks and green space, 250 acres of lakes and quite a few conservation areas. All of these features make this walkable community pedestrian- and pet-friendly.
Looking for an upscale suburban lifestyle? Or maybe you're more of the hometown community type? Quite possibly you just want the conveniences of urban living? Well, you can find it all in Baldwin Park.
---
Harmony
Harmony is located in rural west Osceola County, right off East Irlo Bronson Memorial Highway. Their motto is, "Where nature calls you home", and their location is just one of the many reasons that motto speaks truth to their lifestyle. It was originally developed in cooperation with the University of Florida's Department of Wildlife Ecology and Conservation, and it is a Green-Certified community, too.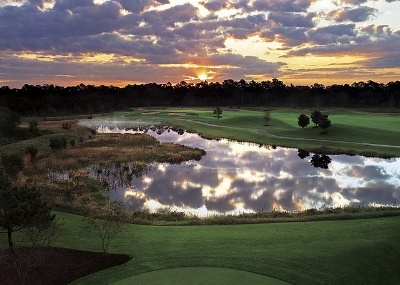 Harmony is fairly young as far as established master-planned communities go; it opened to residents in 2003. You will find that Harmony offers a wide variety of homes that fit different needs and different budgets. They offer townhouses, villas, spacious homes and custom manor-style homes. As a master-planned community, it offers many amenities such as its own golf course, restaurants, a doctor's office, nail salon, marketplace and more.
The amenity they consider one of their biggest features, though, is the 7,700 acres of open space, along with two large natural lakes with pristine shores. Harmony also boasts 12.5 miles of trails and pathways perfect for walking, biking and jogging. A healthy lifestyle is another benefit of a walkable community, and with that amount of space and outdoor activity, there is no way around that here!
Ready to live somewhere you can live, work and play? One of these walkable communities in Orlando may be perfect for you!