A lot of companies know consumers, like you, are interested in and looking for information about homes and real estate and have created slick looking websites to attract you to their sites. What you may not know is they are really just interested in using web traffic to increase the value of their ad space and then selling those ads to major companies. Although this is a common practice and not necessarily wrong, most consumers are not aware they are being used in this way.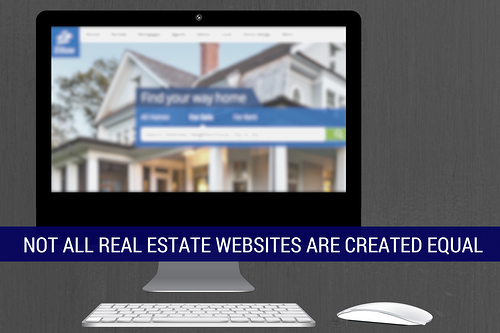 Additionally, what may surprise you even more is that every time you register for one of these real estate websites, or request more information about a home, your information is actually being sold to real estate agents looking for new leads. Although you may not mind being contacted by a real estate agent with information about a property, you don't know if you are actually being connected with a good agent or just one willing to pay the most money for access to you as a lead.
Unfortunately, making matters worse, after you spend countless hours searching for homes, combing through photos and dreaming about your exciting move, the "perfect" home you found may not actually be a reality. Is that dream home even really for sale?
Only a Realtor® can answer that question because they have the most up-to-date information on what is really on the market, accurate pricing and have the local knowledge needed to help guide you through this important process. As a real estate professional, I speak with countless individuals that are disappointed to hear the dream home they found on websites like Trulia or Zillow isn't even on the market and may not have been for years. Sadly, this problem with accuracy isn't limited to buyers and renters - homeowners are also frustrated when they find out the value estimates listed on these websites are often inaccurate, too.
Want to limit the frustrations and disappointments you might come across in your home search?
Meet with a highly respected, experienced and competent REALTOR® and discuss the features you want in a home, where you want it to be and how much you are willing to spend. Your REALTOR® will not only be able to guide you through the process (and to your dream home), but can help you weigh the pros and cons of various options, features, locations and even whether you should consider new construction or resales.
Although technology is a great asset to all of us, buying, selling or renting a home isn't something that should begin or end on a website. Buying a home will likely be the largest investment you ever make. You wouldn't set up an investment account to put your kids through college or save for retirement without talking to a professional adviser. So, it makes sense to consult with a professional real estate adviser - a REALTOR®.
Don't get me wrong, looking at homes online or on your mobile device is fun and great way to see what the market has to offer. The key is making sure what you are looking at is accurate. The good news is tech-savvy REALTOR® have the most accurate listing information available on their own websites and you can rest assured your information isn't being sold to the highest bidder. Working with a REALTOR® that has earned the nationally recognized e-PRO certification is one way to ensure you are represented by a certified internet professional who will answer e-mails promptly and professionally, respect your online privacy and offer home listings and other cutting-edge internet tools to help you find or market your home.
---