As a homeowner, you are most likely looking to produce a primary outcome from the selling process—selling your home for top dollar in the shortest time possible. Staging your home can help you achieve this goal, and can be a lot simpler than you may think.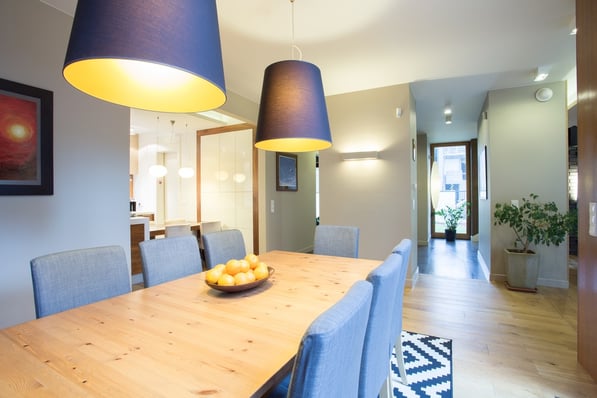 How to Stage Your Home to Sell: Room by Room Guide
Living Room
Symmetry is pleasing to the eye – think throw pillows and lamps. Having ample lighting (this goes for any room) is key, so add table lamps if needed. Use slipcovers to improve the appearance of furniture that may be well-loved or mismatched.
Kitchen
Keep countertops free of clutter, which means putting away small appliances like your toaster, blender, or coffee maker. Remove the magnets and notes from your refrigerator, and give all appliances and cabinets a good wipe-down. Adding fresh flowers to a vase on the counter is a nice added touch as well.
Dining Room
Set the table with your favorite dishes and cloth napkins, allowing potential buyers to see the possibility of entertaining in this space.
---
Making home improvements? Make sure you include these updates which give you the best return on your investment.
---
Bedrooms
If your bedding or curtains are not neutral, consider swapping them out for some that are. Put all jewelry and other valuables away in a safe place, and declutter your dresser and nightstands. If you have more than one spare bedroom, consider repurposing one as a home office or craft room to show its diverse potential.
Bathrooms
One of the best things you can do for a bathroom is a deep clean. Once that is done, put away all personal items, but put out anything that gives the feeling of being at a spa – soft towels, decorative baskets, lightly scented candles – all these things will help set a distinct mood.
Everything Else
Fill holes in walls where pictures or frames have been moved, wash windows inside and out to let in the most light and freshen things up, and update personal family photos with framed art to allow for potential buyers to see themselves in your home.
---