You've made it to the finish line. That in itself is cause for celebration! But we know, the celebrating is going to start the minute you've signed the last paper and are holding those new keys (or, if you just sold a house, that check!) in your hand.
But you may be wondering what exactly to expect at the closing table, especially if this is your first time at it. Whether you're a first-time buyer, a first-time seller, or someone who is seasoned in the home buying and/or selling process, there are a few things you may want to be prepared for.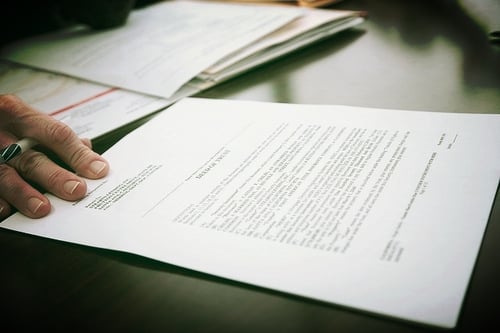 The days leading up to closing.
There are small things that are sometimes overlooked in the days leading up to closing. If you're a buyer, have you called to get the utilities turned on? Have you set up your mail forwarding? Have you scheduled the wire transfer from your bank to the title company? If you're the seller, have you scheduled the utilities to be turned off? Collected all keys, garage door openers, etc.? Have you planned for and communicated with your REALTOR® how the proceeds from your sale will be distributed? For example, are you expecting to walk away from the closing table with a printed check or have your proceeds wired into your bank account?
Clear to close.
As you go through this process, the term you'll be waiting to hear is the all powerful, "clear to close". This is the blessing from the buyer's lender saying they have finalized all paperwork and that the buyer (meaning their loan) is truly "clear to close". Nothing else in this checklist will happen until you have this. It is something you want as early as possible, even though sometimes it can come right up to the last minute, and can even push a closing back at times.
Scheduling it right.
While some people manage to get their closing done on their lunch break, taking a half-day or more from work is something to consider. There are many things that can postpone and prolong a closing, and getting everything done and yourself back to work within an hour time-frame may prove to be difficult. Taking a half-day or full day off of work also lets you enjoy the moment. Another tip when scheduling your closing? Avoid closing on the last day of the month because that's what everybody else is shooting for, too. The busier the title company is, the more difficulty you'll have getting the time you want.
Walk-through prior to closing.
This is something that is often overlooked but is so vital to ensuring there are no last minute problems with the house you are calling your "dream home". By way of example, I once encountered a situation where we learned a power surge hit the home the night before our closing, blowing the air conditioning capacitor and the electronic controls on the fridge and dishwasher. Had a walk-through not been completed prior to closing, the buyer would have been walking into a closing not knowing they were inheriting problems no one even knew existed.
Documents.
The only true document you need is your driver's license, but being certain you have this prior to closing is important so you don't cause any delays with the closing.

Key players at closing.
You may not know this, but long gone are the days of the buyers and sellers being at the same closing table together at every closing. Although this does still happen from time to time, you'll likely be signing at two different times and maybe even two different locations. Who should you expect at your closing? At your closing you should expect the closing agent, your REALTOR®, and, many times, a committed mortgage professional.

The unexpected.
Unexpected things can happen at closing. For example, after everyone has signed all of the documents and paid all of their required funds for the closing, you may still be waiting on a funding number from the buyer's lender. Until this number is received, the closing isn't done (yes, even if you've already signed on the dotted line). As a buyer this means you may leave the closing without the keys in your hand, and as a seller this means you may leave the closing without a check in hand. Not to worry, though, everything is held in trust at the title company until the funding number has been provided by the lender, and you will be notified by your REALTOR® when it's time to really celebrate.