When it comes time to sell your home, you may think that you can do it yourself. Many homeowners see For Sale By Owner (FSBO) as a money saver when considering it versus using a local Realtor®. We are here to tell you that that is probably not the case. Heck! Even Austin Powers isn't a proponent of this home selling technique.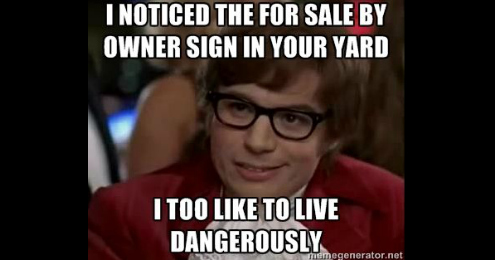 One of our biggest priorities is always to make the most money for our customers, and these tips below might help dispel the myth of how For Sale By Owner is more profitable than using a REALTOR®.
Losing money when you really thought you'd be saving money.
There are quite a few reasons why you could possibly lose out on a ton of money when it comes to trying FSBO over using a REALTOR®. First, a REALTOR® has access to market data that will give you insight on other homes in the area (including those homes that recently sold). This data will help your REALTOR® price your home accordingly and a home that is priced right will sell more quickly than one that is not. Homeowners that went the FSBO route in 2013 on average sold their home for $184,000 compared to $230,000 for an agent sold home according to the National Association of REALTORS®*. That's not just a few thousand dollars, that is over $45,000 you could be missing out on.
Taking time out of your already busy schedule.
Selling your house can be a very time consuming process. It not only takes time to prepare your home to sell, but being available to show your home is something you might not have time for. When using a REALTOR® to sell your home, he or she will be able to schedule and organize the showing of your home among the many other things you might not have even thought about when it comes to selling a house (like understanding and preparing the paperwork). Having the ability to devote yourself to all aspects of selling a house can be time consuming, so letting someone who does that for a living take care of the process just makes more sense.
Keeping your emotions out of the selling process.
This home that you have now decided to put on the market was once your pride and joy and you might have some strong feelings about what potential homebuyers might be saying about your home when it comes to selling it yourself. By using a REALTOR® you will be able to take the emotions out of this process. They will be objective in selling your home, being able to give an unbiased opinion on the flaws that a potential buyer might see. That oversized garden tub you loved to take a relaxing bubble bath in each night might not be a great asset to a person who prefers a hot shower and more space in that closet your tub is eating into. A REALTOR® can help a potential buyer talk through their concerns and help them see the other good qualities in your home that just may help them look past that flaw they found in the master bathroom.
While some may have said that selling the For Sale By Owner route has worked for them, they may not have realized the financial loss and potential liabilities that they exposed themselves to through the process. So, when it comes to selling your home in Central Florida, the best way to get your home sold in the shortest amount of time and for the best price possible is by letting a professional handle it. A REALTOR® who has the Graduate Realtor Institute (GRI) designation is someone who demonstrates the knowledge and skills essential to listing, marketing, negotiating, and even more when it comes to selling your home.
*These statistics came from the National Association of Realtors® Profile of Home Buyers and Sellers 2013.